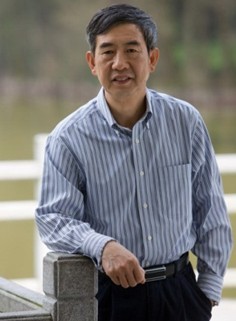 HUANG Hongwen (黄宏文)
General Secretary, IABG
(Director, South China Botanical Gardens, Chinese Academy of Sciences, China)
Professor HUANG Hongwen is the director of South China Botanical Garden/South China Institute of Botany, Chinese Academy of Sciences (CAS) since 2006. Prior to that, he worked as the director of the Wuhan Botanical Garden/Wuhan Institute of Botany, CAS for 10 years.
Professor Huang started his research career as plant germplasm collector and fruit tree breeder of kiwifruit (Actinidia) and chestnut (Castanea). He received his MS at Central China Agricultural University, 1984 and Ph.D. in plant genetics and breeding at Auburn University, USA, 1993. His career spans over 30 years in arena of plant genetic resources and breeding, with experiences as co-principal investigator and co-investigator positions for a number of research projects funded by CAS, MOST, USDA and European Union, etc.
He is best known for Actinidia germplasm research and breeding, responsible for founding Actinidia section of Chinese Horticultural Society. He developed and released novel yellow-fleshed kiwifruit cultivars (Actinidia chinensis) grown worldwide for commercial production. His more recent research focused in conservation genetics of threatened plants and ex situ cultivated flora, which contributed to Chinese botanical garden community for understanding of conservation principles and applied practices for Chinese native plants. Apart from his research, he actively advocated and passionately outspoken for conserving Chinese native plants, which has raised enthusiastic attention among botanical community.
Professor Huang received many prestigious awards and honorable recognitions, including one national and three provincial Science & Technology Advancement Prizes, National Service Model Recognition and Honorary Fellow in HortResearch New Zealand.
Professor Huang is author of >200 publications and holder of 13 registered or patented cultivars. As a teacher, he trained 25 Ph.D. and 33 MS graduates.