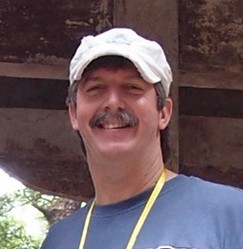 Christopher Willis
Council Board Member, IABG
(Chief Director: Conservation Gardens & Tourism at SANBI, South Africa)
Christopher Willis' Experience
Chief Director: Conservation Gardens & Tourism
Government Agency; 11-50 employees; Environmental Services industry
1996– Present (16 years) Pretoria Area, South Africa
SABONET Regional Coordinator (1996 to 2000)
Junior Lecturer
University of Venda
1990– 1996 (6 years) Thohoyandou
Botany/Biological Sciences/Plant Conservation
Christopher Willis' Skills & Expertise
Christopher Willis' Education
University of Cape Town
Master of Science (MSc), Conservation Biology
1993 – 1994
Grade: A
Studied through the Percy FitzPatrick Institute of African Ornithology.
MSc Degree with distinction.
Dr H.E. Joosub Award.
Class Representative in the MSc course in Conservation Biology
Publications emanating from research project:
WILLIS, C.K., A.T. LOMBARD, R.M. COWLING, B.J. HEYDENRYCH & C.J. BURGERS. 1996. Reserve systems for limestone endemic flora of the Cape lowland fynbos: iterative versus linear programming. Biological Conservation 77: 53-62.
WILLIS, C.K., R.M. COWLING & A.T. LOMBARD. 1996. Patterns of endemism in the limestone flora of South African lowland fynbos. Biodiversity and Conservation 5: 55-73.
University of Pretoria
BSc (Hons), Zoology
1988 – 1989
Studied BSc (Hons) part-time. Worked as a Research Assistant in the Mammal Research Institute from 1987 to 1989.
VAN AARDE, R.J., C.K. WILLIS, J.D. SKINNER & M.A. HAUPT. 1992. Range utilization by the aardvark, Orycteropus afer (Pallas, 1766) in the Karoo, South Africa. Journal of Arid Environments 22: 387-394.
WILLIS, C.K., J.D. SKINNER & H.G. ROBERTSON. 1992. Abundance of ants and termites in the False Karoo and their importance in the diet of the aardvark Orycteropus afer. African Journal of Ecology 30: 322-324.
University of Cape Town
Bachelor of Science (BSc),Botany and Zoology Majors
1984 – 1987
Distinctions in both Botany and Zoology majors.
SAAB South Western Cape Branch Book Prize
Class Medallist, Zoology 201S (Invertebrate Zoology course)
Class Medallist, Zoology 301F (Animal Physiology course)
Class representative, Botany 300F
Chairman, UCT Botany Club (January-June, 1987)
Diocesan College (Bishops), Cape Town
1972 – 1981
Environmental Studies Prize (1977)
General Good Work Prizes (1978 to 1981)
Top 100 in the English Olympiad (1981)